Houzz is one of the top online resources about home interior design. With that cachet, small wonder that whenever the site publishes a new survey, people in the industry listen.
So it is with Houzz's recently published 2018 Kitchen Trends Study, which surveyed over 1,700 respondents. Houzz compiled its survey into a 38-pg. illustrated report divided into seven sections (including Methodology and Appendices).
Here are five takeaways we found in the survey:
1) From Traditional to Transitional
Homeowners are veering from traditional design to transitional. A quarter of respondents said they were pursuing a transitional design on their kitchens—the single largest design style. (By comparison, old favorite traditional pulled in just 11%.) On their blog, design group Laurel & Wolf define transitional as "design [that] combines the best of traditional and contemporary styles to create a timeless interior that everyone will love. Together, they form a perfect balance of masculine and feminine resulting in elegant designs."
2) The Quartz Countertop is In
Engineered quartz is the top material for countertops for the third year running. An overwhelming majority–94%–of respondents said they replaced their countertops, and 42% said they splurged when it came to replacing those tops. While that's good for quartz, granite has slid in popularity from 43% in the 2016 survey to 34% in 2018.
3) San Francisco Can't Get a Break
San Francisco is already notorious for the high cost of living, and so it has the distinction of having the most expensive kitchen renovations. Of the top 20 US metro areas, San Francisco ranked the most expensive with an average cost of $70,000 for major renovations. By comparison, runner-up Philadelphia has a substantially lower average of $55,600.
4) Folks Hate Their Old Kitchens…
The biggest reason homeowners are remodeling their kitchens: They detest their old ones. Over 40% of respondents said they could "no longer stand the old kitchen." Nearly the same number said they're adding a kitchen island for their remodel. More homeowners are also embracing a fresh kitchen layout: L-shaped layouts account for 35% of remodels, followed closely by U-shaped and well ahead of galley, single-wall, and G-shaped layouts.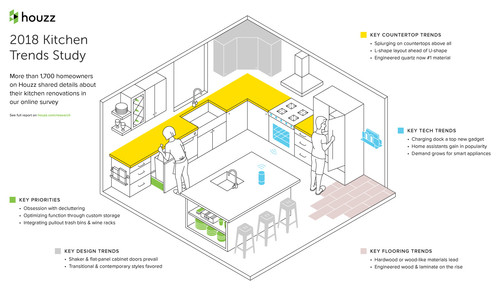 Houzz identified five areas that homeowners are changing in their kitchen remodels, be it materials (such as quartz for countertops), home assistants and smart appliances, and more innovative storage solutions. By Houzz Research – See more Home Design Photos
5) …But They Hate Clutter Even More
Homeowners are obsessed with clean, well-organized kitchens. A whopping 82% of respondents said they were replacing their cabinets with the aim of de-cluttering their kitchens. Built-in specialty storage is key, with respondents identifying:
Pullout waste or recycling cabinets
Cookie sheet/tray organizer
Deep-drawer organizers
Pull/swing-out trays/shelves
Revolving corner trays (Lazy Susan)
Spice organizer
Cutlery organizer
Utensil organizer
Pots and pans organizer
Small appliance garage/drawers
Wine and/or bar cabinets
Pullout corner drawers
Dish organizer
Of these, pullout waste and recycling cabinets accounted for 67% of new additions to kitchens, followed by cookie tray, deep-drawer, and pull-out trays.
De-Clutter with Accuride
Accuride has you covered with convenient and reliable movement solutions for any kind of kitchen storage. Our solutions include:
Medium-Duty Drawer Slides
See more of solutions on our Homeowners Page!
Of course, these takeaways only touch lightly upon Houzz's comprehensive survey. Perhaps the biggest theme to emerge has been one of aesthetic and functional efficiency. Technology, such as smart appliances and assistant devices, and movement innovation, from pullout bins to hideaway organizers, are giving kitchens a clean design without compromising versatility.
Are you planning to renovate your kitchen? Let Accuride be your resource for creating a moving, space-saving interior! Our experts can help you with useful suggestions for crafting a beautiful, clutter-free interior. Just reach out to us on our contact page or social media to learn more!
We recommend you download and read Houzz's full report. In the meantime, stay connected with Accuride.
[optin-monster-shortcode id="fevqcfjaahzkqw1ynkr4″]