As the rest of the world slows down in response to COVID-19, work within the medical field is reaching lightspeed. More so than ever before, the need for efficient, safe, and reliable medical equipment is critical, and manufacturing companies across the globe are stepping up to help in any way.
At Accuride, we are proud to have a continued relationship with many medical manufacturers. From medical storage carts to hospital sliding doors, our movement solutions have served in many ground-breaking, essential products over the years.
Below, we spotlight six of these fantastic products, which are helping healthcare workers on the frontlines.
1. Viwa Portable Workstation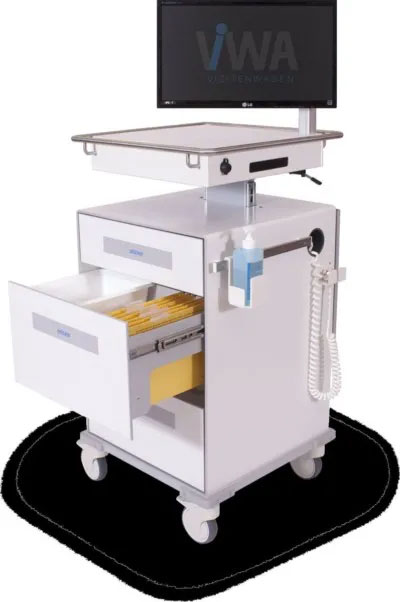 Doctors and nurses can easily access essential documents and systems with this innovative workstation.
The Viwa i50, a workstation designed in Austria, enables doctors and nurses to take files and laptops or integrated desktops with them as they complete their daily rounds. This portable workstation gives access to essential documents as well as telehealth systems to improve efficiency and patient information safety.
When designing this portable workstation, Viwa required a reliable movement solution for the medical storage drawers, found in the Accuride 3832EHDTR Light-Duty Slide. With touch-release functionality, the 3832EHDTR makes it easy and sanitary to open and close drawers without needing a handle. These slides also have a hold-in feature, ensuring that the drawers remain safely closed when not in use.
2. Stavromed Bedside Cabinet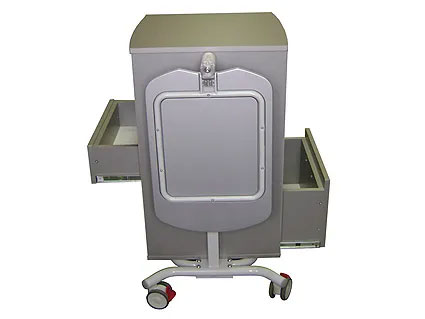 With full-extension movement in both directions, this bedside cabinet is usable in any position.
When developing a new model of bedside cabinet for post-operative care rooms, Russian manufacturer Stavromed needed a two-way travel slide usable in any position. Accuride's 2002 Two-Way Travel Slide provided the perfect solution, meeting the company's requirements and medical standards. With seamless two-way movement, the Accuride 2002 ensures both patients and staff can access this bedside cabinet.
3. Baker Ruskinn Anaerobic Workstation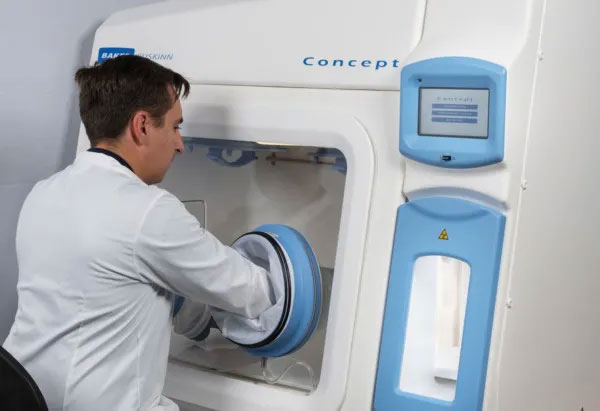 The 0363 enables this anaerobic workstation to provide quick and secure analysis of samples.
The Concept is Baker-Ruskinn's family of cutting-edge anaerobic workstations. These workstations provide quick and secure analysis of research samples. To ensure smooth movement for the interlock tray, Baker-Ruskinn installed the Accuride 0363 Two-Way Travel Slide. The 0363 is a popular choice for such applications, offering a load rating of 100 lbs. and full-extension travel in both directions.
4. Alder Hey Children's Hospital Sliding Doors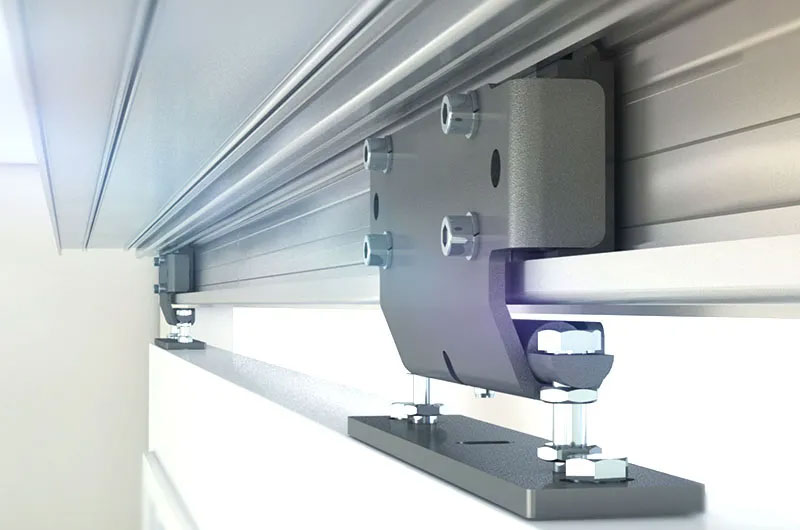 With ADA-compliant linear motion, the 116RC is an innovative breakthrough for the sliding door market.
When designing the Alder Hey Children's Hospital in Liverpool, the National Health Service (NHS) of the United Kingdom polled patients and their families to learn what they wanted to see in the new hospital. After finding that young patients wanted more light and space to move about in their rooms, Accuride had a request to produce a custom solution for sliding semi-transparent doors, which would open up more wall space within the facility.
Our engineering team created an aluminum track that moved using recirculating ball carriages, making the doors easy to open despite their heaviness, even for the young patients. For a similar, off-the-shelf movement solution, see our 116RC Heavy-Duty Linear Track System, a state-of-the-art sliding solution able to handle loads up to 793 lbs.
5. Led Tailor Innova7ion Surface Disinfection Box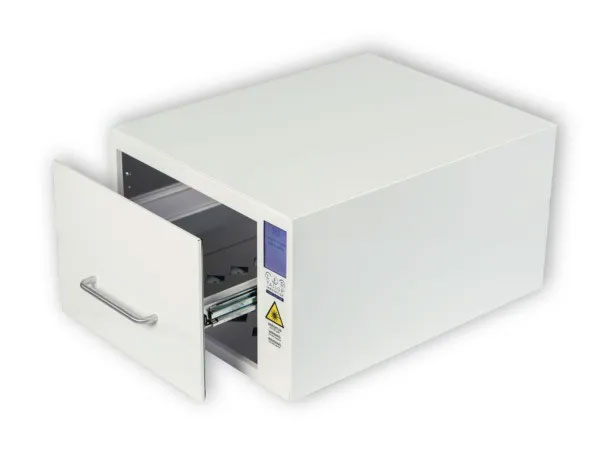 Within the innovative medical automation market, smooth movement and reliability are paramount. When manufacturing a surface disinfection box that uses blue LEDs, Finnish company Led Tailor Innova7ion utilized our 2002 Two-Way Travel Slide as well as 7432 Slide with Rail Mounting and Progressive Movement. The 100% extension of these slides allowed for easy access to the box's contents, while the load-rating of 100 lbs. made it suitable for use on multiple items at once.
6. NewIcon Oy Smart Medical Cabinet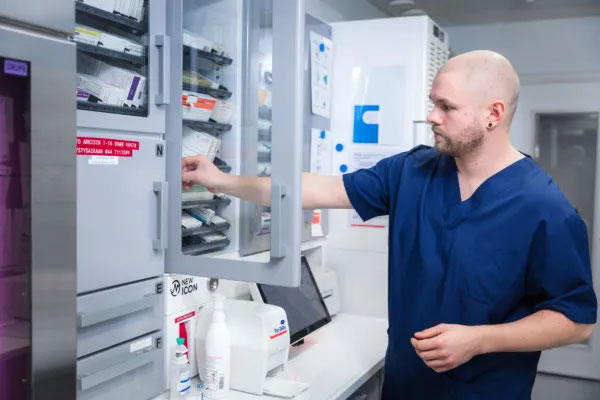 This smart medical cabinet ensures critical supplies can be accessed in time-sensitive situations.
During the development of its eMED ICON Smart Medicine Cabinet, manufacturer NewIcon Oy needed to find a slide that was not only suitable for wide drawers but could also carry heavier loads. The eMED ICON is a modular device for the storage of medication in pharmacies and hospital dispensaries. Drawers constitute a significant part of the design, so it was important for NewIcon to find drawer slides that met their specifications.
Several Accuride movement solutions were tested. In the end, NewIcon decided to go with Accuride's 3832EC Light-Duty Slide with Easy-Close and SS5321 Heavy-Duty Corrosion-Resistant Slide with Over-Travel. Accuride slides enable vast amounts of supplies to be stored in one space and ensure reliable access in time-sensitive situations.
Accuride remains in operation during this uncertain time and continues to work with partners in medical manufacturing to meet the growing need for ground-breaking, innovative products. If you're a manufacturer or supplier in healthcare, and need dependable movement solutions, visit our Healthcare Solutions page or reach out to an Accuride expert! Accuride supplies mass-market and custom options–whatever the movement challenge, we will help you overcome it.
Related Posts