Claire Baldwin is a popular Instagram DIYer who features her work under the name Polish & Power Tools.

When she needed a premium movement for her premium designs, she turned to the Accuride 3832ETR Touch-Release.

Claire's conclusion: "Not only was the installation a breeze, these slides really do work great!"
Nashville is home to many things: The Grand Ole Opry, the Country Music Hall of Fame, and (interestingly enough) a life-size reproduction of the Greek Parthenon. It's also home to Claire Baldwin, the colorful DIY personality behind Polish & Power Tools.
There's no better feeling than when a project is completed. The actual act of putting something together with your own blood, sweat, and yes – sometimes tears, gives me drive to do it again and again. Doing something yourself – creating something that initially might have just been a pile of lumber into a piece of furniture that can be used for years to come – is a pretty sweet thing.
Being a woodworker can be inspiring. But it also challenges common perceptions of who is "supposed" to be a woodworker, a perception Claire runs into often.
"At first, people are taken aback. I usually get 'oh really?' with a look of disbelief on their face – especially at big box stores like Home Depot when I'm asked what all the lumber I'm buying is for. It's uncommon for women to be in the woodworking trade and since it's long been made up of mostly men, I understand how people can assume that it still is. Of course, I don't look like the 'typical woodworker' people initially picture but I think that's part of the misconception. Woodworking is much more about creativity and the drive to create, not about physical strength."
Claire's projects have included wall décor, tables, and even a bed for her beloved dog, Millie. As the scope of her projects grew, so did interest among people who wanted to buy them.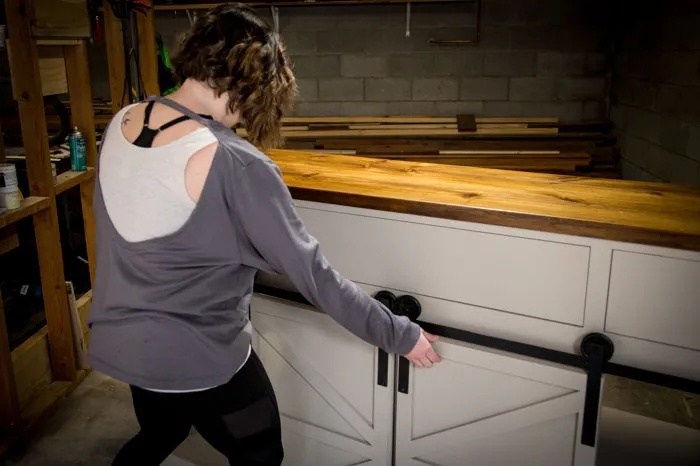 Claire designed and assembled this wooden console, complete with three 3832-equipped upper drawers and one large barn door section below. We wonder if those barn doors could've used a 115RC…
Claire's projects grew to include storage cabinetry. That shift toward creating woodwork of more functionality added another dimension. With cabinetry, that dimension meant movement throughout various compartments.
But it isn't just about providing movement: It's about providing the right movement—robust, yet almost effortless—on her projects' drawers. smooth movement solutions for its drawers. Like many folks, her initial go-to for slides was the local hardware store.
Until I began using Accuride slides, I hadn't noticed that the quality of what I had been using was so poor in comparison. I was used to the drawer wiggling back and forth, being difficult to close, or not sliding properly when opening.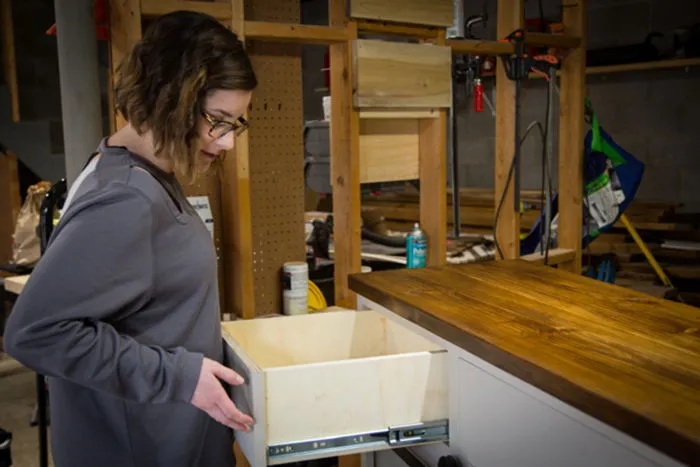 Claire described installing the Accuride 3832 as simple, mounting this one in just minutes.
It wasn't long before Claire swapped out her cabinet's other generics with Accurides. And when she designed a new multi-compartment console, she factored in Accuride slides into the new design.
They were so easy to install! This was my first time using touch-release slides and I was anticipating the installation being much more complex than I found it to be. Not only was the installation a breeze, these slides really do work great.
But Claire isn't staying idle on her recent success: She's already looking at bigger projects. "There are quite a few different products I'd like to try for upcoming projects! One would be soft-close [3135EC and 3160EC] undermount drawer slides. I would love to create a drawer with dovetail joinery that really focuses on the details – which the undermount slides would allow me to do."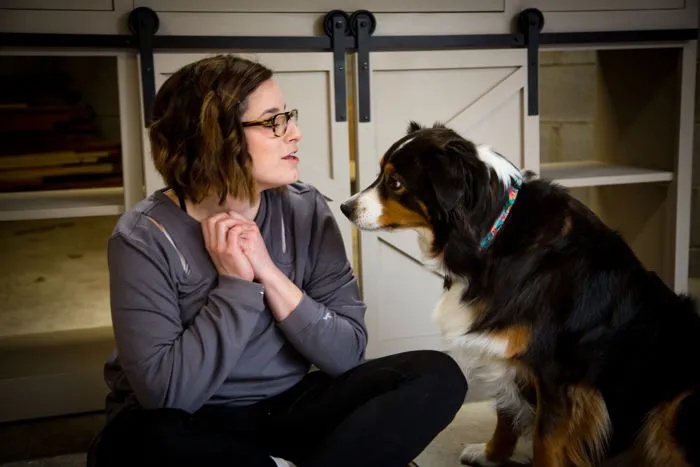 Claire credits her dog, Millie, with being a constant motivation. "I never have an idle moment when she's around, so I might as well use that moment for something productive!"
You can follow Claire's latest projects on Instagram and for more great stories, stay connected with Accuride!
Related Posts