Load ratings are a key determinant when choosing your slide.

Accuride cycle-tests each slide to determine the max load capacity.

Cycles range from 2,000 to 75,000 cycles, depending on the market.

Standards meet national and international standards, such as AWI, BHMA, KCMA, and SEFA.
Have you ever wondered how drawer slides get their load ratings? Is it the application? Is it from testing? The answer is, yes. All of these factors play a significant part in determining the load rating of a drawer slide.
Now, when you think of ratings, you probably think of the general context of ratings referring to quality, that's not the case with drawer slides. With sliding hardware, a load rating is a gross weight that accounts for the drawer construction materials and the contents inside. For example, at Accuride, we manufacture sliding hardware with load ratings as low as 35 lbs. and as high as 1,323 lbs. This doesn't mean the slide with the lower load rating is any less reliable than the slide with the greater load rating, each slide is designed to fit particular types of applications.
Similar to how boxers and wrestlers are classified, we classify our slides by the weight they can carry. Our drawer slides are categorized by load rating: light-duty, medium-duty, and heavy-duty. These categories provide a load index to make selecting the best drawer slide easier for you.
Our light-duty drawer slides are best suited for applications that weigh 139 lbs. or less. This category includes our two-way travel slide, model 0363, commonly found in medical carts, kitchen islands, and other applications that require two-way access. This specialty drawer slide has a load rating of 100 lbs. and full-extension travel in two directions. Our recently enhanced 3800 series also falls into the light-duty slide index. This versatile slide provides performance and functionality with available Touch Release, Easy-Close, Self-Close, and Detent-Out features.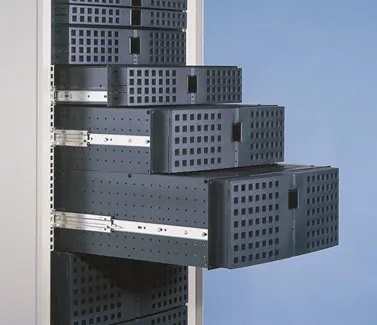 Next up is our medium-duty drawer slides, which support applications from 140 to 169 lbs. Slide series 3300 is a prime example of our medium-duty slides. The half-inch cross-section and 150 lb. load rating makes these slides ideal for electronic enclosures.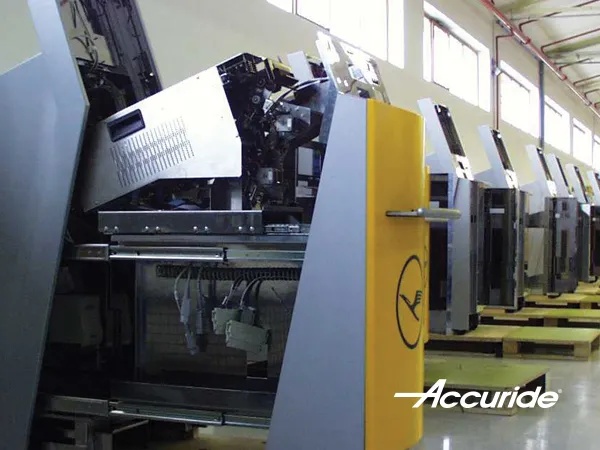 Accuride's recently enhanced 9300 drawer slides now have a 600 lb. load rating, making it ideal for industrial applications such as industrial vehicles, ATMs, and tool boxes
Our heavy-duty drawer slides range from model 301 at 175 lbs. to our AL4120 at 1323 lbs., we engineered these slides for use in a wide variety of applications including utility vehicle storage, industrial machinery, and heavier residential applications. These slides can also be used to add stability to drawers up to 42″ in width.
Now you know about load ratings and how our slides are categorized, let's dive into how we determine these ratings:
Dynamic Testing
Manufacturers always give a maximum load rating for their drawer slides. As previously stated, the weight listed is a gross weight that accounts for the drawer construction materials and the contents inside. This number indicates the maximum load that a pair of slides can carry if mounted as instructed and doesn't exceed the recommended number of cycles*.
*A cycle is one complete open/close of a drawer.
A load rating is the result of a dynamic test in which slides are attached to a drawer in a test fixture and cycled in and out a pre-determined number of times. Different cycle rates are used depending on the type of slide and expectations within the application. For applications in the industrial and electronic market, Accuride tests them between 2,000 and 10,000 cycles, and for slides in our cabinet and hardware market, we cycle the slides between 50,000 and 75,000 times.
To test the slides, we mount the drawer slides in a test rig and distribute the load evenly throughout the drawer. Once we take final measurements, the test begins, and our team checks for quality and durability throughout. Once fixture completes the cycle count, we measure the deflection and make sure it's within the project specifications, ensuring the slides can bear a full load and remain functional throughout their lifetime.
Static Tests
After the cycle test completes, we conduct a static load test at the slide's full extension to test how our slides perform in applications such as pull-out shelves. In this test, we assess the slides with twice the amount of weight as the dynamic test in the extended position for 24 hours. This check ensures 100 percent safety when the slide is at full extension.
Slam Testing
In addition to the cycle test and static test, our products also undergo out stop impact tests. These tests involve slamming the drawer slide against the open end stops to ensure the slides aren't damaged when opened vigorously.
At Accuride, we test all of our standard slides, in the same way, to make it easier for you to compare 'like for like.' For applications outside of the standard parameters, we send our equipment to third-party facilities to ensure the slides perform correctly in their given environment.
We get our test standards from a range of national and international sources such as BHMA, AWI, KCMA, and SEFA. We take it upon ourselves to make sure we comply with all these standards to deliver you the best solutions.
Our engineers and quality assurance teams spend thousands of hours every year testing our sliding solutions in laboratories around the world to ensure we deliver accurate load ratings. In doing this, we can guarantee that our products are tested to meet the high standard of quality we've set for ourselves over the past 50 years.
To see which product is the best fit for you, visit our product catalog.
Related Posts