The Accuride 3832 slide is the perfect slide for building projects like a frameless cabinet.

The 3832 slide is quick and easy to install with only seven steps to full installation.
With Slideology 101, we sought to help readers understand the basics of ball-bearing slides and linear track systems. With Slideology 201, we want to give readers a step-by-step on how to implement those same movement solutions into their applications.
Our first 201 how-tos will look at how to install a 3832 into a frameless cabinet.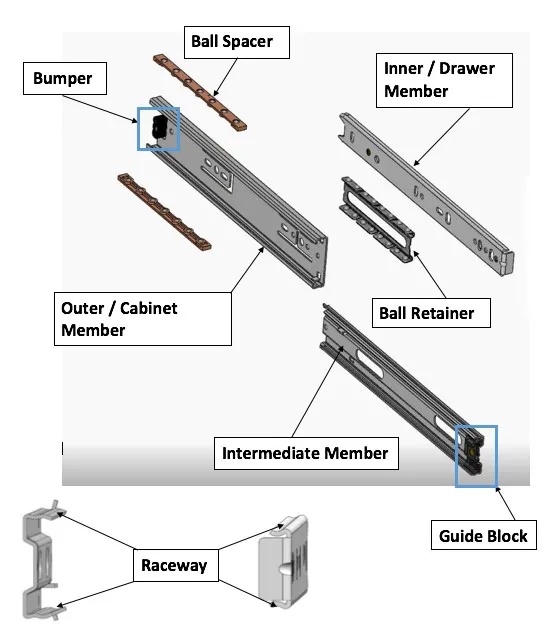 The 3832 is:
Full-extension

It has three members:

Drawer

Intermediate

Cabinet
Medium-duty

It handles loads up to 100 lbs. (gross rating)
Available in many variants

Variable lengths from 6″ to 28″

What Tools You Need


Make Sure You Meet These Conditions


12 No. 8 Phillips Head Screws

Phillips No. 2 Screwdriver

(Optional) One of the following:

Your drawer box's corner-to-corner dimensions are the same (four squared corners)

Has ½" of side-space between it and the cabinet

Your drawer box is at least 11/16" narrower than your cabinet opening.

Make sure your members have the correct setback.
Step 1:
Separate your slide members by rotating or indexing on the plastic lever seen above.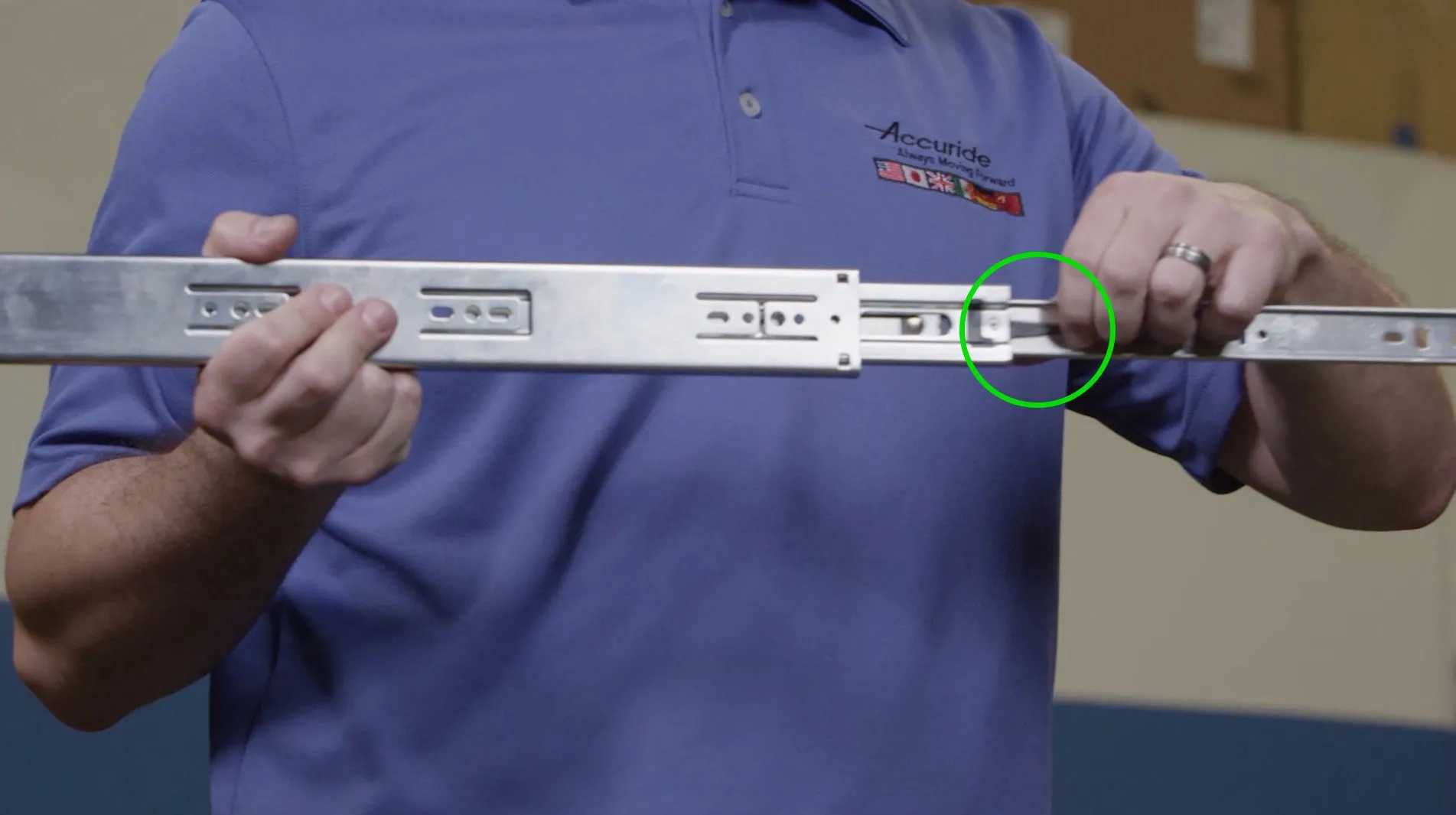 Step 2:
Line up your cabinet member just below your cabinet's drawer opening centerline — this is the spot where you'll have optimal stability.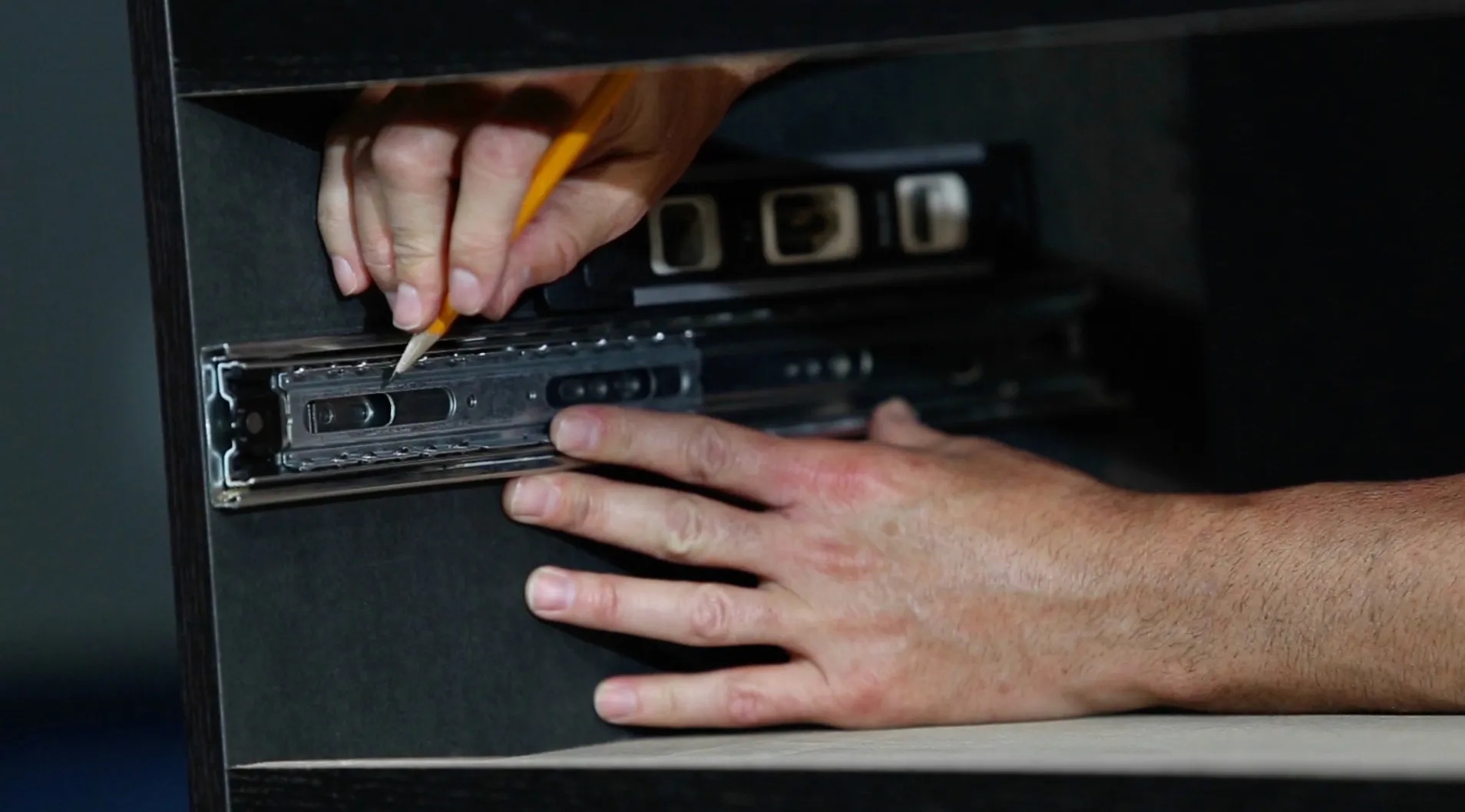 You may have to set back your drawer or cabinet member depending on whether your drawer has a front face on it and whether that front face is set inside the cabinet. Generally, we recommend you set at least a 1/8" setback on your drawer member so your slide has proper engagement of the rear detent (which secured the drawer closed), but your need may vary.
Step 3:
Next, you'll mount your cabinet member. Start by tightening a screw into each of the horizontal slots. Adjust the depth of your members using the horizontal slots, pictured above. Once you determine the right horizontal adjustment, secure the member into place by inserting a screw into the each of the fixing holes pictured above.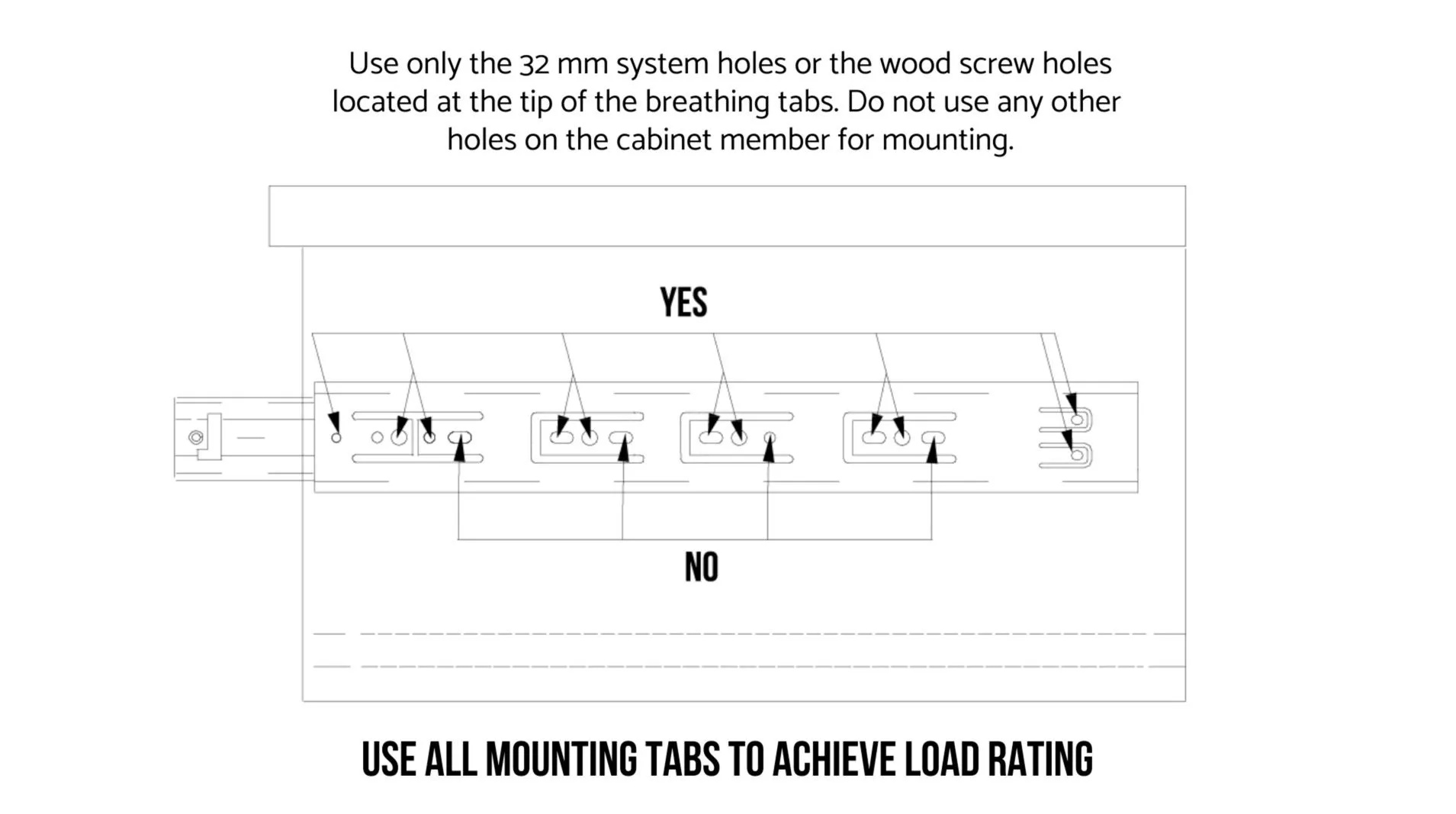 You should have one screw mounted into each of the horizontal slots. Depending on the length of your slide, you may be able to leave screws inside those slots and just insert one screw into a small-diameter hole.
Step 4:
With the cabinet member installed, let's move to installing the drawer member on the drawer side. As with the cabinet member, you'll line up the inner member just below the centerline of the drawer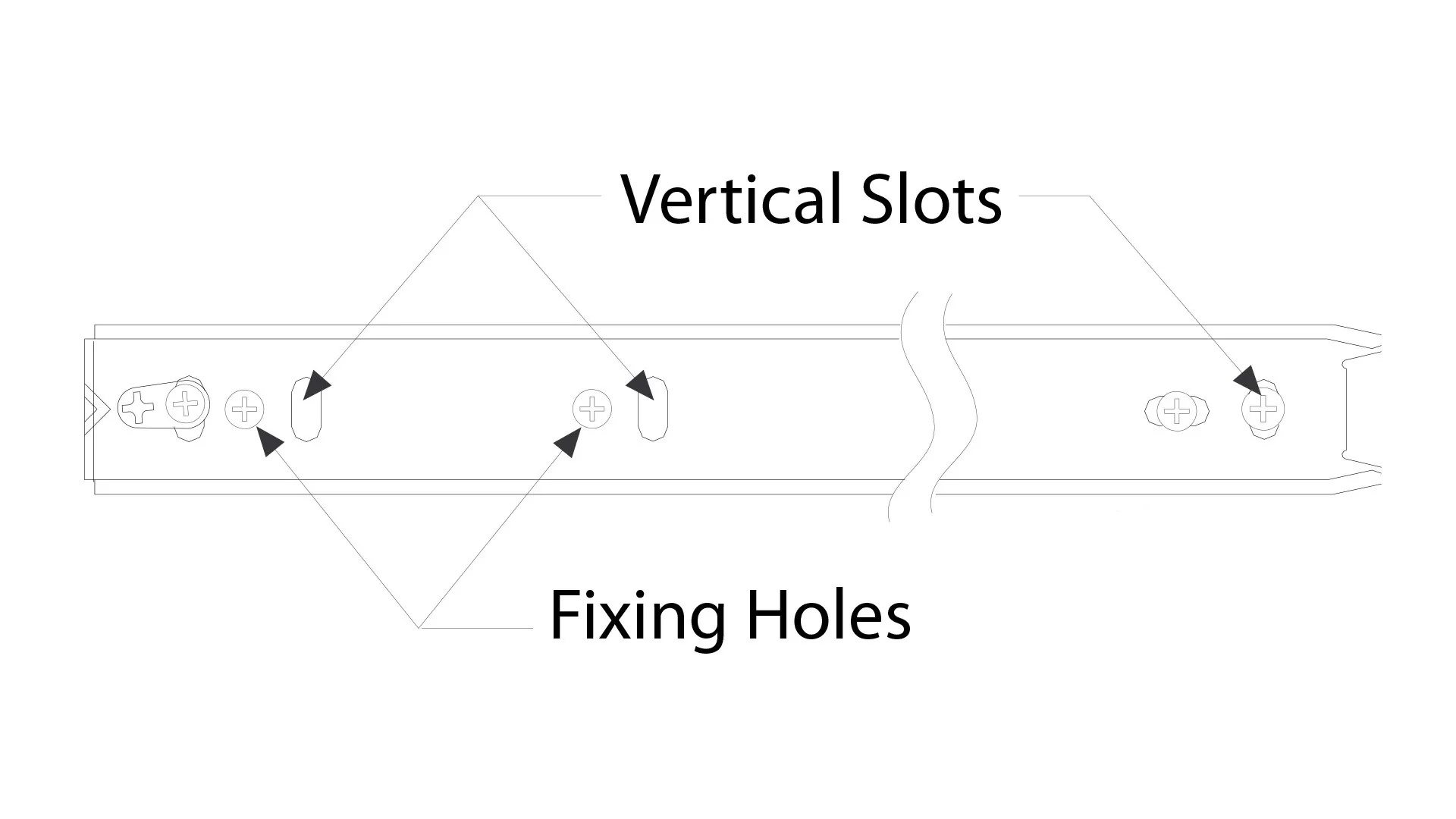 Step 5:
Once lined up, tighten screws into each of the vertical slots. Determine the right vertical adjustment via the cam adjust, secure the member into place with a screw inside each of the fixing holes, shown above.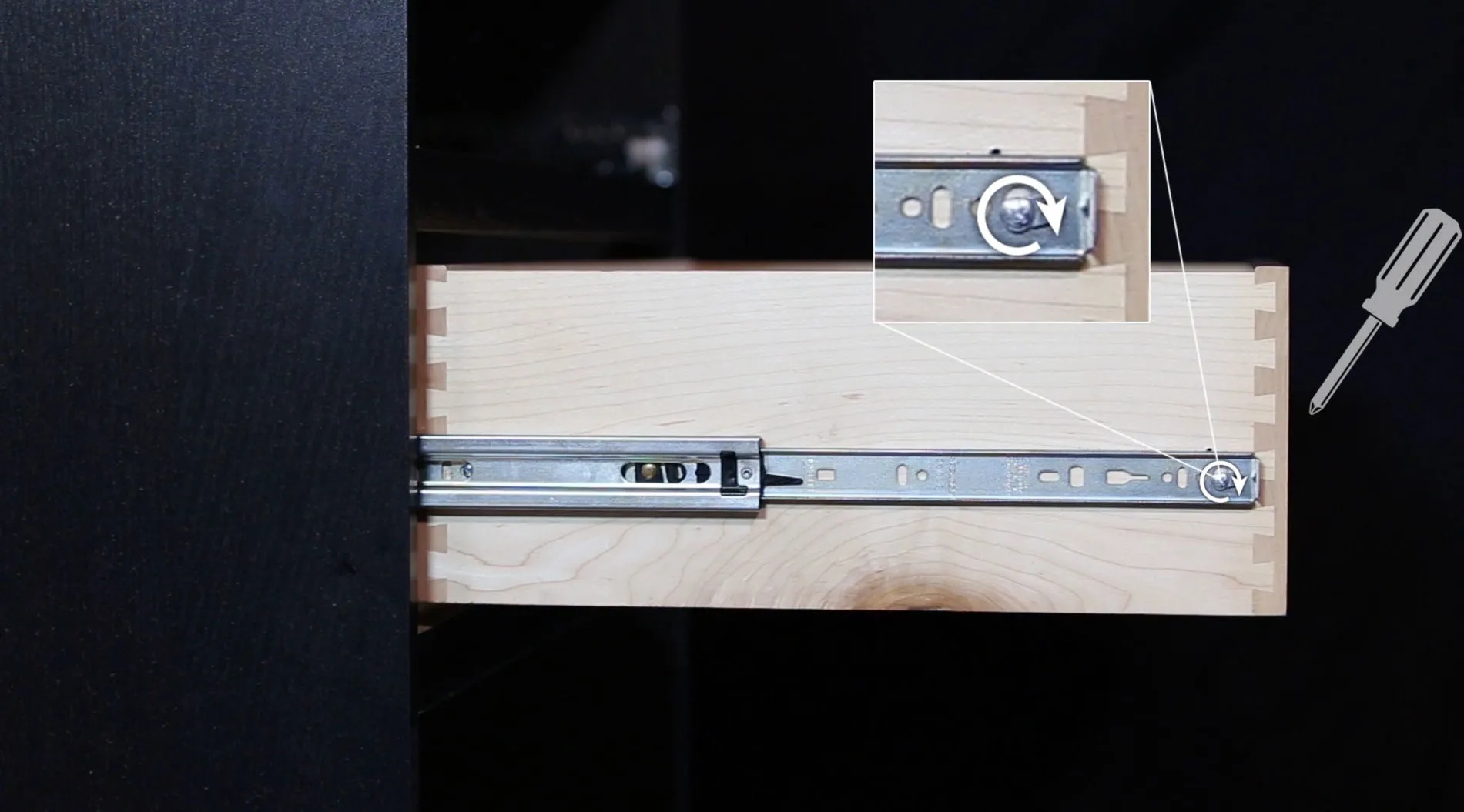 Step 6:
Pull the ball retainers of the intermediate member forward. This will help avoid misaligning (and damaging) the drawer members when you re-connect them.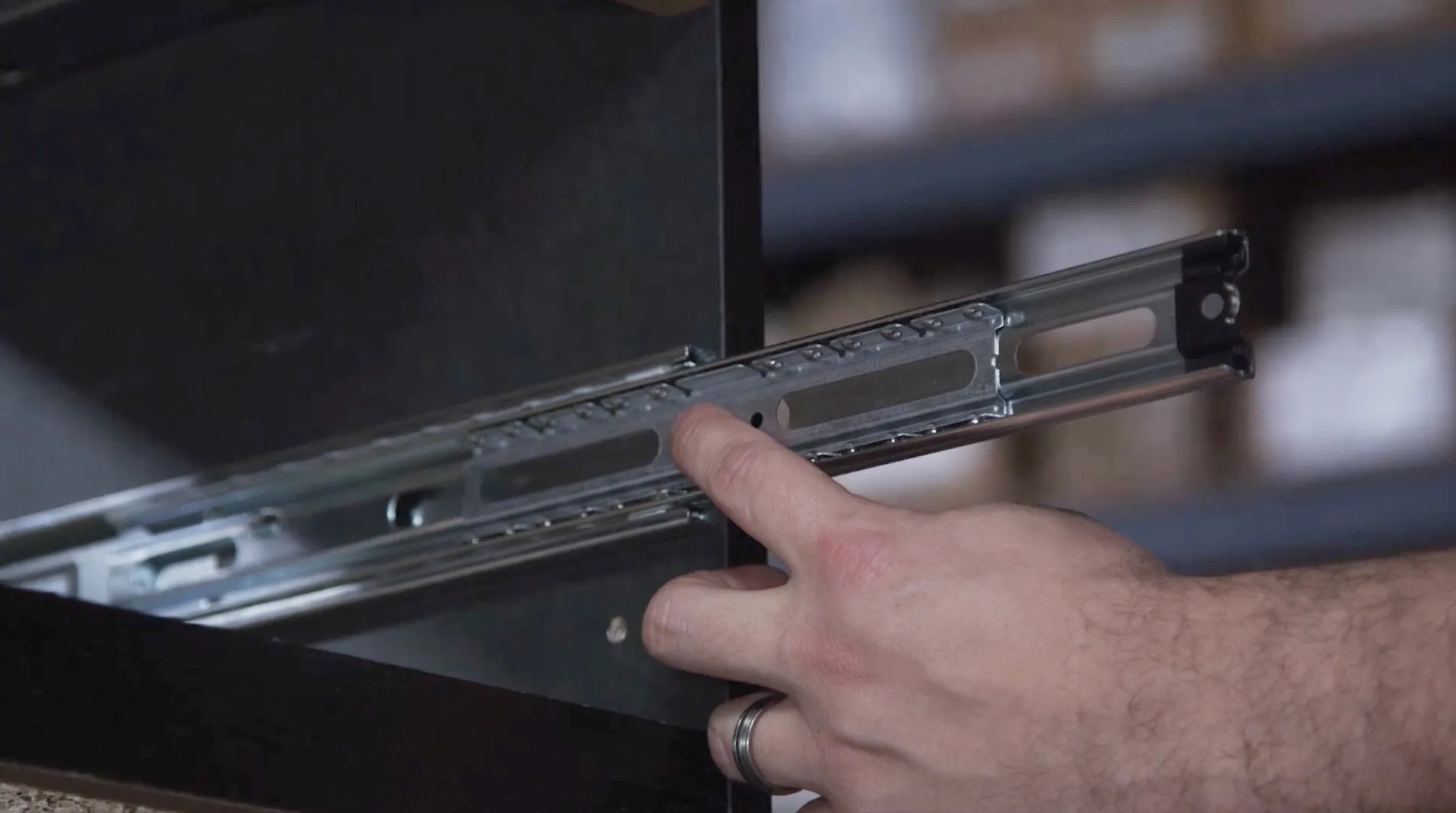 Misaligned drawer members run the risk of having the ball bearings burst out when you try to re-connect the members.
Step 7:
Once your retainers are fully extended outward, insert your drawer. You'll feel resistance when pushing the drawer fully closed—push firmly to reconnect the members.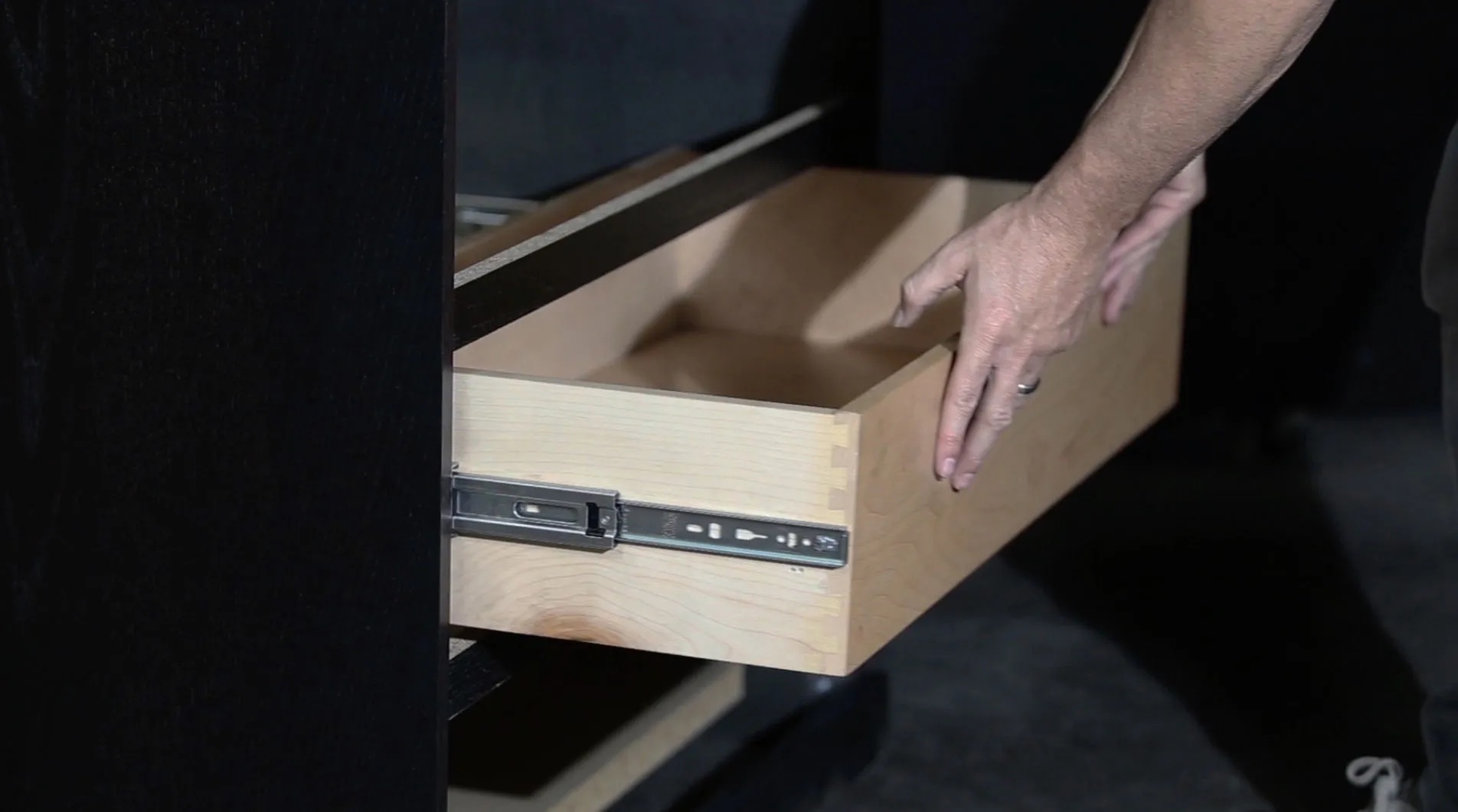 And there you have it — a fully installed 3832 drawer slide! We'll have a how-to for face-frame holes coming soon! You can see a full lineup of 3832 slides by visiting our 3800 family page.
If there's a model of a slide you'd like to see covered in Slideology, leave a comment or message us on Facebook, Twitter, or any of our other social media channels.
Related Posts