The undermount drawer has become a virtual must in any prestigious home, boutique, or institution. With hardware concealed beneath, an undermount drawer offers a clean esthetic desired in any sleek or minimalist space.
The Accuride 3135EC Easy-Close is a popular choice of slide for undermount drawers. More and more woodworkers have shifted over to Accuride undermount slides from other brands.
But a change from one brand to Accuride isn't as simple as a parts-swap. Craftsmen and women have to make sure their undermount drawer is Accuride-ready.
Why Go with an Accuride Undermount Slide?
There are several reasons why woodworkers have turned to the Accuride 3135EC.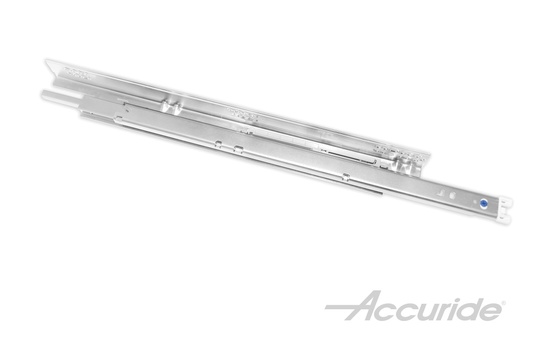 Whereas competitors have them as options, the Accuride 3135EC Undermount Slide includes disconnect levers as standard equipment.
For starters, the 3135EC includes soft-close action, three-way adjustment, and reversible disconnect levers as standard. By contrast, other manufacturers tend to make these features optional.
A key advantage with the Accuride 3135EC comes in its wide breadth of lengths: two-inch increments from 12 to 28 inches, plus 15- and 21-inch options.
This expansive range gives woodworkers more flexibility in their drawer designs – no more having to compromise to a slide-manufacturer's limited available lengths.
Additionally, Accuride's North American supply chain reduces shortages and lead times. In other words: Woodworkers get what they need when they need it.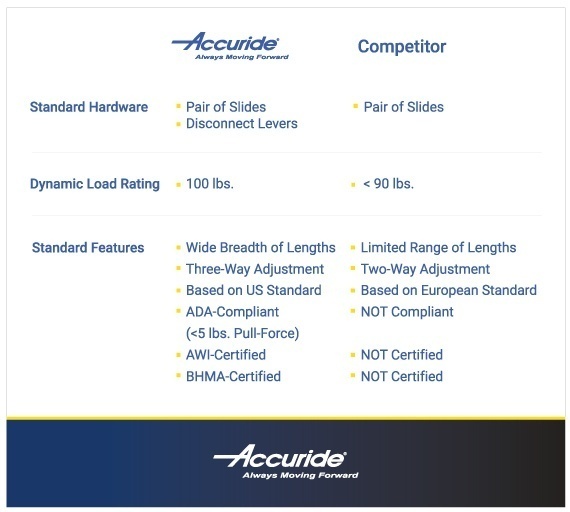 The 3135EC is an ADA-compliant slide thanks to its pull-force of less than 5 lbs.
Lastly, the Accuride 3135EC delivers a dynamic load rating of 100 lbs. when most barely meet 90. Better still, the 3135EC delivers superior performance while compliant with the Americans with Disabilities Act (ADA), as it requires less than 5 lbs. of pull-force for drawer opening.
Some Specs to Keep in Mind
While most overlap, there are a few specs to keep in mind when switching over to an Accuride undermount slide from a competitor.
Side Space
Whereas many brands use 7/16-inch (.22 in.), an Accuride-ready undermount drawer must factor in ¼-inch (.25 in.) of space per side.
Drawer Length vs. Slide Length
Consider this general formula:
Accuride Slide Length = Drawer Length

Competitor Slide Length > Drawer Length
Some popular models of competing undermount require a slide be three inches longer than its drawer. By contrast, Accuride slides keep lengths simple: Use an 18-inch slide for an 18-inch drawer.
Drawer Thickness
Accuride undermount drawers have a recommended thickness of ⅝-inch, which is becoming more and more common in the industry. Some competitors may use ¾-inch.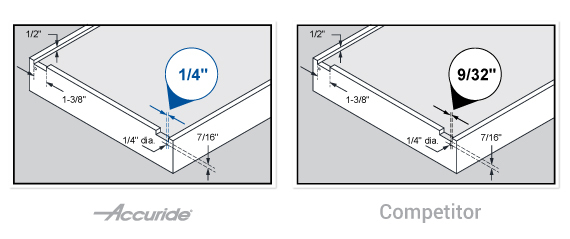 Note the difference in the hook-hole spec between an Accuride undermount and a typical competitor.
Hole Hook Placement
The hook hole is drilled 7/16-inch below the notch (common in competitors) and a ¼-inch to the inner side (unique to Accuride). By contrast, some other brands opt for 9/32-inch. (See the above image for reference.)
Conclusion
Building an Accuride-ready undermount drawer may require some difference specs, but the rewards in quality and value go a long way for woodworkers and their clients.
Have a look at the Accuride 3135EC Easy-Close. You can order a pair directly from us or from your trusted Accuride distributor!
Related Posts