A vertically mounted slide should not bear weight.

Applying weight onto a drawer slide risks breaking it.

Vertically mounted systems only provide up-and-down guided movement; it falls to other mechanisms or supports to handle the weight of an application.

Linear tracks and friction guides are better options for vertical mounting than ball bearing slides.
In our previous installment of "Slideology," we covered the different ways you can mount a ball bearing slide. In this installment, we expand on the challenges that arise when you use one of those methods…
…vertical mounting.
VERTICAL MOUNTING
People vertically mount slides to provide up or down guided movement for an attached application.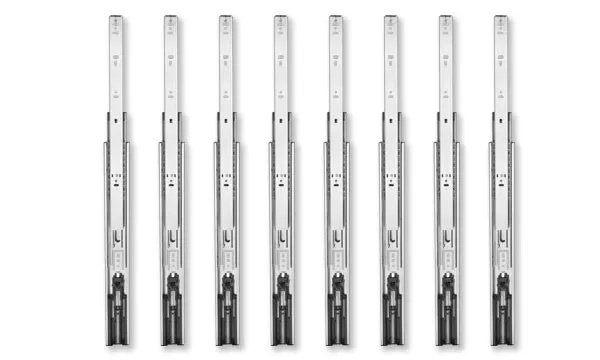 People vertically mount slides to provide up or down guided movement for an attached application.
Applications can include appliances, furniture, or platforms. Those applications can include everything from appliances to furniture to platforms. Vertical mounting is a pretty unconventional approach when it comes to movement, so there are all sorts of novel applications that can come out of this.
VERTICAL MOUNTING IN ACTION
Look no further than Accuride's earlier case study with Virginia Tech's FutureHAUS.
Virginia Tech used a heavy-duty linear track system to provide guided up-and-down movement for its moving fixtures.
In this instance, Joe Wheeler, an architect and futurist with Virginia Tech applied Accuride 116RC Linear Track Systems to provide up-and-down movement for the FutureHAUS's adaptive interior environment.
The key word is "movement".
Vertical mounting only allows movement; the sliding system doesn't carry any load. The user needs to use a platform or other mechanism to carry weight and keep an application afloat.
THE DO'S
DO use a proper solution. Some sliding systems accommodate vertical mounting. Some sliding systems are designed to accommodate vertical mounting–but only SOME. The 116RC Heavy Duty Linear Track System, 115RC Medium-Duty Linear Track System, and the FG115 Friction Guide are designed to factor vertical mounting.
THE DON'TS
DON'T use a regular ball bearing slide. Traditional slides, like the Accuride 3832E Light-Duty, are meant to be "side-mounted".
Vertically mounting these types of slides, and placing a load onto them, risks bending and breaking the slides.
So don't do it!
Simply put: Follow these practical guidelines and you'll get the most of your vertically mounted application.
If you want to know more about slide mounting, see our recent Slideology 201 blog. For all the latest news in movement innovation, stay connected with Accuride!
Related Posts