Shipping containers first transformed the transportation industry. Now, they are transforming the architectural world

Architects have refashioned shipping containers into community spaces like food halls and homeless shelters, citing benefits such as environmental sustainability and time/cost efficiencies
When you think of shipping containers, you probably think of cargo loads at container ports. But you may have also seen that these containers can be used for more than transporting goods across the world. Today, used or retired shipping containers are re-purposed for a variety of projects, from retail spaces to housing solutions.
According to Brenda Lobos, an architect with a background in sustainability and interior architecture, shipping container architecture emerged out of the minimalist micro-living movement. "Less is more," Lobos says, noting how people are building smaller houses with fewer materials and less space. Compared to traditional building resources, Lobos adds, "shipping containers are more sustainable and less expensive," appealing to both businesses and homeowners.
In this blog post, we will explore the many benefits of shipping container architecture, and how you can use Accuride solutions to build and transform your very own unit!
Retail
In Southern California, there is an ever-growing number of established retail shipping container spaces. But why are contemporary design studios increasingly drawn to prefabricated pieces? To find out more, we spoke to Javier Meier Borrani and Michael den Hartog of RFRM Collective, the architects behind the artisan food market BLVD Market in Montebello, CA. They developed BLVD Market as an outdoor food hall reminiscent of casual pop-up shops.
According to Meier Borrani and den Hartog, architects have long been attracted to the aesthetic and functionality of the shipping container. In the last 10-15 years, though, its popularity as a building material has greatly increased.
Some of the biggest benefits to shipping container architecture are time and efficiency. Generally, modular construction projects are faster and easier to build. If the construction site occupies a tight space, you can build the shipping container system offsite, further maximizing efficiency. This is a significant benefit for cities such as Los Angeles, where space is limited.
For many projects, cost benefits are another factor to consider. With an abundance of decommissioned shipping containers available, the cost to purchase remains low, even as demand increases. Because container-based buildings can often be constructed quicker than traditional projects, there is the potential for huge cost savings. RFRM Collective notes, however, based on their experience in the retail space, building with shipping containers can be more expensive than traditional construction materials.
Shipping container architecture also offers sustainable solutions for the environment and for creating community spaces. Beyond re-purposing an existing element, shipping container builds are more efficient with utilities and waste. Above all else, retail spaces like BLVD Market create community spaces that serve, adapt, and change with the people using them. From communal seating to shared kitchens, shipping containers are offering innovative ways to bring patrons together within a community.
After speaking with RFRM Collective, the benefits of bringing modular construction to the retail world became apparent. How else, though, might shipping containers be re-purposed?
Residential
With its many benefits, shipping container architecture isn't limited only to retail spaces. There is also an incredible growth in their use for residential spaces, both communal and personal.
CRATE Modular, a California-based manufacturer, designs multifamily housing and school buildings from recycled shipping containers. In South Los Angeles, they built Colden Avenue, the first multi-story shipping container development in the city. Colden Avenue houses local formerly homeless individuals. CRATE is currently developing a new homeless shelter for Buena Park, CA. Projects such as these are transforming how we serve our communities with better infrastructure and design.
As with retail, there are many advantages to using modular construction for residential projects. These containers are an economical alternative, given their quick turnaround to build. They are sturdy yet malleable, easily transformable from an empty 60,000-pound container into something habitable and welcoming.
For more residential inspiration, check out The Modern Home Project, founded by Benjamin Uyeda. Uyeda built his own small shipping container home in Joshua Tree, CA. He also documented the entire process, from buying land and the shipping container, selecting materials, and furnishing the final result. The Modern Home Project proves that the future is bright with shipping container architecture rising on the horizon.
Accuride Solutions
Lobos believes shipping container architecture can be "accessible for everyone." Inspired by the forward-thinking designs surrounding us in Southern California, here's how you can use Accuride slides to develop your own modular home.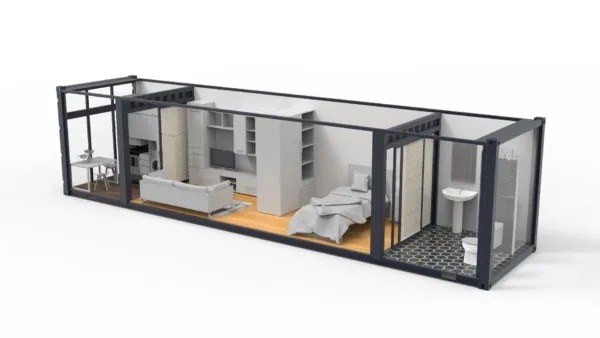 This 3-D rendering highlights how Accuride sliding solutions can be utilized to transform a standard-sized shipping container into a modern studio apartment.
As Lobos explained, living small means getting innovative with space-saving solutions. One place to start is with your cabinetry and drawers. Our 3135EC Easy-Close Undermount Slides create a sleek aesthetic, providing seamless opening and closing for narrower fits commonly found in modular homes. You might also consider pocket doors, such as our CB1321 Pocket Slides with Auto-Open. Pocket doors "disappear" when opened, providing an efficient alternative to the swing of traditional hinged doors. Our slides ensure gentle movement, which eliminates scuffs and scrapes on your doors.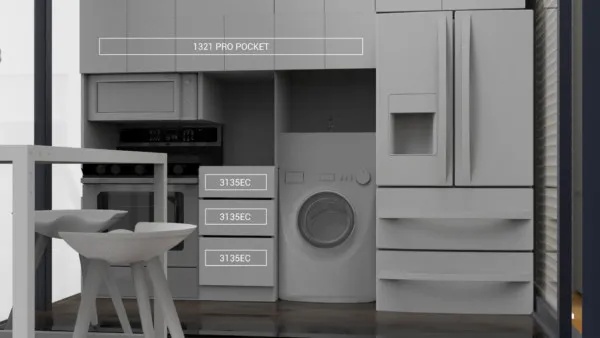 In this compact kitchen, the 3135EC and 1321 create ample storage space while maintaining a sleek, modern aesthetic.
For wider drawers, our 3160EC Soft-Close Undermount Slides get the job done. Designed for drawers up to 5 feet wide, these slides make storage simple for the living room, bedroom, and beyond.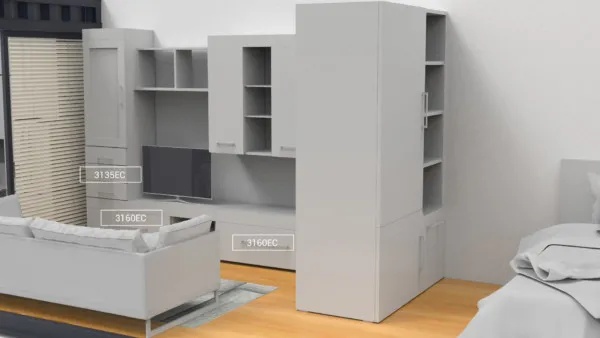 Crafted by the industry's leading innovators at Accuride, the 3160EC is the only undermount slide designed to support applications up to 5 feet wide—perfect for this stylish entertainment center.
No space-saving project is complete, though, without a solution for moving walls, panels, and doors. Use Accuride's 116RC Heavy-Duty Track System for sliding doors that give you both privacy and security. For lighter loads, use the 115RC Medium-Duty Track System.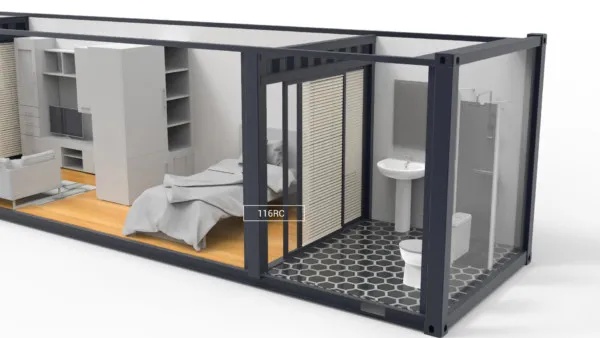 The 115RC and 116RC can be side, flat, or vertically mounted—offering reliable guidance and seamless movement to a variety of micro-living applications.
Designing your perfect shipping container home has never been easier or more exciting than with Accuride solutions.
With shipping container architecture, there are infinite possibilities—and infinite benefits. Shipping containers offer economic, environmental, and communal advantages that better support our communities and our environment. At Accuride, we are motivated by the creative and thoughtful designs featured throughout Southern California—and we can't wait to see what the future of shipping container architecture holds.
Are you looking to build your own modular construction? We want to see what Accuride solutions you're using to transform your own shipping container. Tag us on Instagram or use the #Accuride for a chance to be featured. Follow us on Facebook, LinkedIn, Pinterest, Twitter, and YouTube to stay up-to-date on the latest micro-living trends.
Related Posts