By utilizing facilities on three continents, Accuride has become the standard for drawer slides and other sliding solutions across the globe over the past 50 years.

Accuride's AL4140 has a load rating of over 1,300 lbs.

Accuride operates over one million square feet of manufacturing space around the world.
Many folks know Accuride for its popular ball-bearing drawer slides, but now the company is expanding into another kind of movement: friction guides.
A traditional drawer slide, as well as a linear track system, use lubricated ball bearings to allow movement. But a friction guide allows movement from a self-lubricating carriage and rail without a need for ball bearings.
The Basics of a Friction Guide
Like a linear track system, a friction guide has only two main components:
Carriage

Rail
Friction guides are ideal for automated machinery in such environments as factories and laboratories. They provide an economical, long-lasting, and easy-to-install movement solution for machines that use repetitive linear movement. Lots of it.
A user attaches an application, such as the extrusion nozzle of a 3D printer, to the carriage. The carriage then enables the application to move back-and-forth smoothly along a linear axis.
The Benefits of Using Friction Guides
The benefits of friction guides are that they're:
self-lubricating

mechanically simple

virtually maintenance-free

easy to install

corrosion-resistant

quiet

vibration-resistant
Options
Friction guides, such as the Accuride FG115, can come in multiple guises.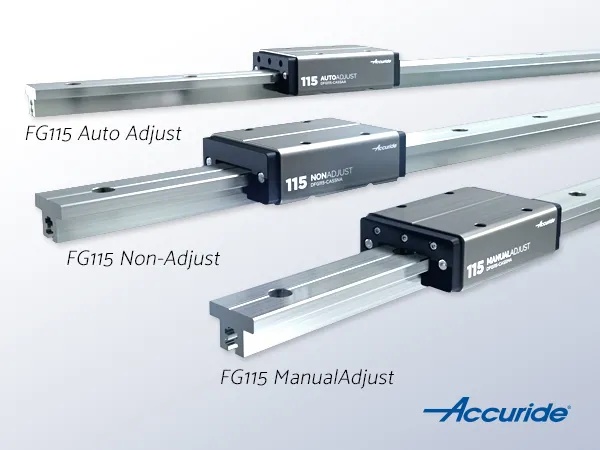 Carriages come in:
Non-Adjust, for when you don't need to adjust movement or clearance. The clearance between sliding element and rail cannot be fine-tuned. This is a cost-effective solution for applications that don't require high-level precision.

Manual Adjust, for when you want to fine-tune for the perfect clearance or preload. Adjust the clearance/tension between the sliding elements and rail by Allen wrench.

Auto-Adjust, for when you want constant preload force for the life of your system. Internal springs maintain constant and consistent tension between sliding elements and rail.
Rails can come in different materials and lengths. The FG115 utilizes an aluminum rail available in a 1 or 2 meters. Each rail can be cut or butted to another rail to adjust the length as needed. The friction guides' flexibility leaves open many possibilities for designers.
The simplicity and versatility of friction guides assure they'll have a long life ahead.
Watch Accuride's Marketing Manager, Claudia Tuttle, demonstrating the FG115!
Enjoy this read? See our other informative posts on linear track systems, micro-living, and electronic access control.
You can see more of the FG115 Friction Guide by reading the news release, visiting the product page , downloading the technical sheet or detailed CAD file, or by contacting your local Accuride distributor.
Related Posts